Southeast LA County Regional Job Fair
July 27 @ 9:00 am

-

10:00 pm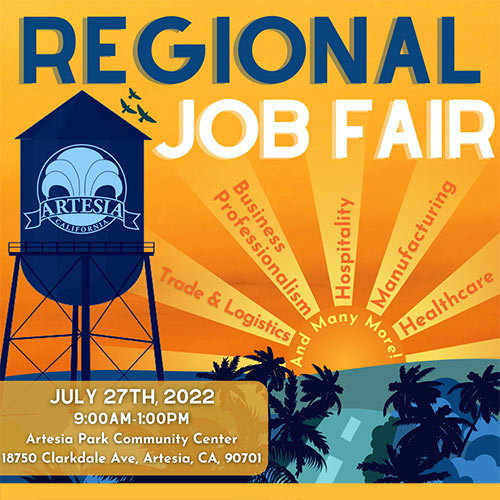 8:00am – 9:00am: Set-Up & Vendor Networking
8:40am: Welcoming Remarks by Local Officials
9:00am: Doors Open to the Public
9:30am: Workshop – How to Create a Winning Resume
10:30am: Workshop – Financial Literacy
11:30am: Workshop – Interview Techniques
1:00 pm: Job Fair Concludes
Parking will be available for all registered vendors. When you pull into the parking lot located across Artesia City Hall, please notify a staff member that you are a registered vendor, and they will direct you to the appropriate parking spot.
► To locate your table, visit the SELACO WDB information table which can be found at the entrance of the Artesia Park Community Center. Please note, each employer will be assigned 1 table & 2 chairs.
► Event will be taking place Indoors & Outdoors, it is strongly recommended you bring a canopy in the event indoors gets fully booked. Will be on a first come first serve basis for indoors.
► All safety measures will be in effect for the event. PPE items such as facemasks, gloves, hand sanitizer etc. will be available at the front desk.
► A light Continental Breakfast will be provided by the Artesia Chamber of Commerce. Snacks and beverages will also be available to vendors throughout the event.
► Template Application forms will be available at the information tables, if needed.
► A private office for conducting interviews will be available.
►We ask that all vendors please attempt to stay for the full duration of the Regional Job Fair as we expect job seekers attending the event into the later hours of the event.
► There will be a brief survey at your table kindly fill out the survey at the end of the Job Fair and on your way out, surveys can be dropped off at the information booth. Your comments and suggestions are greatly appreciated.